As we grow older, the aches in our bodies start worsening and are not as easily shrugged off. 
Most people over 40 aren't as agile, strong, and sharp as they previously were. More dangerously so, our body's immune system has significantly deteriorated by this age. 
By the way, we're talking about the health status of people who don't smoke – those who are still smoking have it far worse.
Indeed, smoking is a hazardous habit that poses significant dangers to people of all ages. But, if you're over 40 and still smoking, it's probably high time to stop and start taking care of yourself by stopping smoking.
Chat to an Aussie GP today
Bulk-billed phone consultations
TGA-authorised Aussie doctors
Nicotine vaping scripts available
In today's post, we'll talk about the increased risk of diseases a 40-year-old smoker has and how stopping smoking significantly reduces these risks.
Cardiovascular Disease
Due to smoking, you have both a poor set of lungs and a poor heart. The thousands of chemicals found in cigarette smoke can devastate a smoker's heart. 
Your arteries will have endured significant damage from pressure caused by the buildup of plaque and reduced blood flow. High blood pressure greatly increases the risk of heart attacks, strokes, and other cardiovascular problems in smokers, especially 40-year-olds and older adults.
While it's true that nicotine addiction is hard to shake off, there are various ways to start you on a smoking cessation journey and keep your heart in good shape as you grow older.
Lung Cancer
Smokers make up the bulk of people who endure lung cancer, alongside people who work in facilities with dangerous chemical fumes and particulates. 
Going back to cigarettes, the link between smoking and lung cancer is well-established. Most diagnoses are often worse for individuals over 40 due to decreased overall health and diminished lung function. 
It is crucial to understand that quitting smoking is the most effective way to reduce your risk of developing lung cancer. If you want to have a longer, fuller life, it's time to quit the habit for good.
Accelerated Aging
You're already beyond 40 and are approaching the point where the physical manifestations of aging are already starting to show. If you're a smoker, you probably look years ahead of what you should really look like at your age.
Smoking is a primary cause of the accelerated wrinkling, drying and dulling of skin and typically have older-looking and sometimes sagging skin than their counterparts. More importantly, your compromised immune system increases acne growth and the risk of having psoriasis.
No health treatment is going to make your skin look beautiful again until you stop smoking. So start your quit journey to let your night creams and skin rejuvenating treatments work effectively and make you look younger than your age.
Respiratory Complications
If you're at a high risk of lung cancer due to smoking, you're surely at a high risk of contracting various respiratory issues.
People over 40 who still smoke most likely have developed chronic obstructive pulmonary disease (COPD), chronic bronchitis or emphysema. 
Feel that breathing is hard while you're just relaxing? It's probably because your respiratory problems are worsening due to smoking.
You probably still have many things you want to do in life. If you want to achieve them and feel healthy as you do so, it's high time that you stopped smoking for good.
Arthritis and Osteoporosis
The back aches and weak knees you have standing up after a long time isn't just because you lack exercise and are getting older. It's also due to smoking.
Smoking has been linked to decreased bone density and an increased risk of osteoporosis, particularly in postmenopausal women.
The explanation is simple. Beyond the age of 40, the decline of bone density is much faster for smokers than their non-smoking counterparts, making them more prone to fractures and, even if they get medical attention quickly, much slower to heal. 
It's not worth it to live a life where you need someone's assistance to stand up or worse, when you have to use the loo. Give yourself much more confidence in living beyond 40 years old by stopping smoking.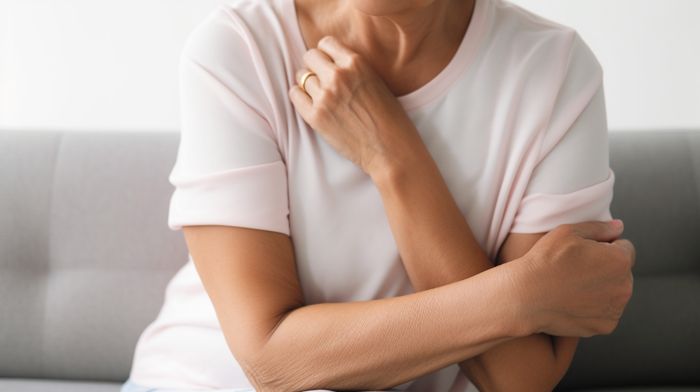 Slower Healing
We've mentioned that your bones are slower to heal when you smoke. Your entire body heals significantly slower as you age, and it gets worse when you still smoke.
Our blood transfers the nutrients absorbed through digestion. Because smoking reduces its flow to the various parts of the body, it hampers the body's ability to heal wounds effectively at any age. 
Most likely, it's much worse for 40-year-olds who still smoke because the chemicals and the body's slowed healing process can be major contributors to severe and life-threatening infections. 
Eye Diseases
It's no surprise that smoking also affects the eyes. Aside from irritating your eyes, 40-year-old smokers are at a high risk of age-related macular degeneration (AMD), cataracts, and other eye diseases.
At this age, non-smokers already experience some vision loss due to age. For smokers, the situation is much worse to the point it has significant negative effects on their daily activities and quality of life.
Summary
As we reach 40, smoking should be out of our lives to keep ourselves from contracting diseases and having mobility issues. Quitting ensures we improve our quality of life as we age. Admittedly, quitting smoking can be extremely challenging, but it can be easy if you go at it with a supportive environment and the right tools.
You're probably reading this because you want to know about the dangers of smoking as you pass the age of 40 and beyond. We hope you found our content informative. We're also here to help if you're struggling to quit.
Smokefree Clinic gives you access to many medically reviewed and trustworthy resources that can inform and aid you in your path to wellness, so have a look around! 
If you're ready to get started, Smokefree can connect you to bulk-billing Australian healthcare professionals who excel in helping patients quit smoking for good, including using responsible vaping products where appropriate.
Click here to book your bulk-billed telehealth consultation with an Australian healthcare professional and quit smoking today.