You've seen it many times in movies and real life – a cigarette smoker running a marathon or biking uphill. It's quite a spectacle because these two contradictions – a strong athlete and a health-destroying habit – create such an odd combo.
But is it truly possible to continue smoking while attaining peak physical performance? If so, is it a sustainable practice?
In today's post, we'll take a closer look at how smoking and running, lifting, or being physically fit could be possible and why any health professional would advise against it.
How Smoking Affects Physical Performance
You've probably tried jogging or running at least a few times. If you're a smoker, the first five minutes will have had you panting for sure – your lungs feel like they're burning, and your muscles are aching everywhere.
Chat to an Aussie GP today
Bulk-billed phone consultations
TGA-authorised Aussie doctors
Nicotine vaping scripts available
Smoking will have taken its toll on an athlete's blood vessels, lungs, and oxygenation levels. Let's take a closer look at the effects of cigarette smoking on each one.
Cardiovascular Health and Endurance
Endurance depends on two systems: the cardiovascular and respiratory systems.
Cardio (short for cardiovascular) focuses on increasing heart rates by running, doing numerous lifting activities with minimal rest, or doing high-intensity interval training (HIIT) – a popular training routine. Even a short brisk walk for 10 minutes will have your heart pumping.
Now, any long-time smoker would feel noticeably more tired than their non-smoking counterpart running the same distance. Athletes who smoke likely have reduced endurance and poor aerobic performance due to smoking affecting the lungs.
For the most part, athletes who can adapt to smoking and running might have been physically fit for the longest time, and their body has adapted to nicotine and cigarette chemicals in their system (which they will need and crave as long as they keep smoking).
However, it is ill-advised to keep on smoking as an athlete as your risk of having a heart attack is double that of a non-smoker. Besides, no amateur, professional, or national athletic team would want a high-risk team member with unpredictable performance.
Lung Function and Blood Oxygenation
The thousands of dangerous chemicals in cigarette smoke are life-threatening and are the major cause of cancer. They also affect everyone's lungs, even the perceived strong lungs of an adapted athlete who smokes.
Both your cardio and respiratory systems are affected by smoking. The carbon monoxide in cigarettes displaces oxygen delivered by your blood, significantly affecting the endurance and consistency of an athlete who smokes.
Aside from impaired lung function, athletes who keep smoking are at a high risk of developing lethal health problems, such as cancer, chronic bronchitis, and emphysema among others, if they continue their athletic activity while consuming cigarettes.
Muscle Recovery and Improvement
With insufficient oxygen sent to their muscles, athletes who smoke have reduced stamina and a poor capacity to repair any micro-tears to their muscles (which are needed to build strength), significantly affecting their physical performance.
Moreover, constricted blood vessels limit the nutrients they supply to various muscles, delaying their healing process.
Combined with how smoking also causes chronic muscle inflammation, a smoking athlete's body will take a while before it can recover and start building new muscle.
While some athletes can still smoke and compete, their developmental trajectory is unpredictable, making them unappealing to many amateur and professional teams. So, if you want to go pro, it's advised that you stop smoking for good first.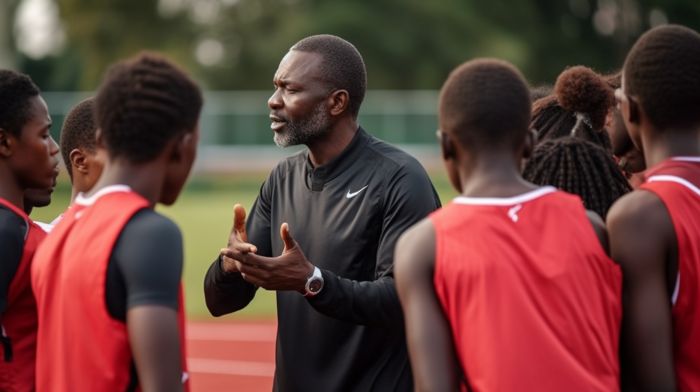 How Smoking Affects Mental Performance
To be a good athlete, it takes more than being able to run fast, recover your muscles efficiently, and keep up with the competition. Many top athletes have sharp minds that adapt and are motivated to break their limits, further boosting their physical aspects.
The chemicals in cigarette smoke and nicotine addiction also impair the mental and emotional health of athletes in various ways.
Focus and Motivation
Nicotine is an addictive substance that the body craves if it's absent for more than a few hours.
You can expect an athlete that has to train multiple hours a day to be distracted by their cravings and withdrawals – they might even ask for breaks consistently just to smoke, affecting team practices.
The image of an athlete who smokes during break periods can also affect the team's overall psyche and could isolate them from their non-smoking teammates.
Without unity, an athletic group can underperform versus other teams that are tightly bonded.
Stress Level Management
An athlete who frequently practices is often physically and mentally stressed. When they smoke, the chemicals in cigarette smoke may give resting athletes relief from their nicotine withdrawals.
However, it does nothing for their tired bodies and minds. For a short period, the nicotine relief will make them feel light and calm until it wears off and their body and mind feel much more painful and worn out.
This continuous cycle of nicotine addiction for an athlete will significantly impair their performance. They will feel stressed and pressured without any means to calm down except for the temporary relief of nicotine in their system.
Anxiety and Depression
Smoking has always been associated with increased anxiety and depression. A smoker's hijacked reward system makes them feel that nothing is better than lighting a cigarette, further reinforcing the habit and making them feel miserable without it.
Athletes who are often physically and mentally tired have a higher chance of being depressed and anxious than their non-smoking counterparts.
Facing consistent stress without the right kind of relief after every training session, athletes do not feel rewarded in running or lifting weights – the body doesn't release endorphins doing them.
Instead, their bodies depend on nicotine to release it and dopamine.
With an impaired natural reward system that motivates us to improve and reach our goals, it's rare for any athlete to keep smoking while shooting hoops or kicking some goals and hope to enhance their capabilities.
Helping An Athlete Quit Smoking for Good
There's no doubt that an athlete who stops smoking improves their health, recovers their muscles faster, and makes them better team players with high growth potential over time.
But, it's important to recognise that nicotine addiction, even for athletes, is very challenging to handle. By providing them with the right kind of help, you can help them quit for good.
Consulting a GP
GPs have helped many smokers, including athletic ones, for decades to stop smoking for good. They can create a tailor-made smoking cessation and nicotine abstinence programme for any athlete – even putting into consideration their training schedules and other small details – to help them find success on their quit journey.
A GP can also prescribe various quitting aids to support an athletic smoker keep their head up during the strongest of withdrawals and cravings
Nicotine Replacement Therapy (NRT) Products
NRT products are the gums, lozenges, and patches athletes could use to keep themselves afloat during strong withdrawal periods. They're also handy in helping them concentrate if they can't focus during practice sessions.
Nicotine Vaping Products (NVPs) from Pharmacies
Some athletes don't find NRT products helpful with their cravings, so GPs can prescribe them the second-line option – NVPs from pharmacies.
Unlike their illegal counterparts, NVP products sold in pharmacies are made under stringent pharmaceutical standards on the manufacturing process and ingredients, are toxicologically assessed for inhalation, are locally insured, and are specifically designed to help you stop smoking.
The latest Cochrane Review found high-certainty evidence that NVPs are more effective than NRT in helping people stop smoking.
Summary
It's rare to see an athlete who smokes and runs, and while it's quite something to look at, athletes who smoke (and those who don't) must always remember that smoking will never let them reach their full potential as professional athletes because their physical and mental capabilities will continue to drift downward due to smoking.
So, quit smoking today and start seeing some outstanding gains in your next practice.
We know you're reading this because you or someone you know is athletic and stresses that smoking does not affect their performance. We hope you found this information helpful. We can also help improve anyone's chances of living a smokefree lifestyle.
Smokefree Clinic gives you access to many medically reviewed and trustworthy resources that can inform and aid you in your path to wellness, so have a look around!
If you're ready to get started, Smokefree can connect you to bulk-billing Australian healthcare professionals who excel in helping patients quit smoking for good, including using responsible vaping products where appropriate.
Click here to book your bulk-billed telehealth consultation with an Australian healthcare professional and quit smoking today.