Imagine – You're greatly motivated to quit smoking, so you've finally decided to bin your last pack. You manage well for an hour and two, but after half a day, the strong urges hit and make you want to buy another pack of 20s.
The absence of smoking (particularly the nicotine) can make you feel like bursting, leaving you irritable, depressed, and confused.
It's okay and very common to feel this way, especially when you're just starting out. Fighting the urge to light a cigarette can feel like an uphill battle during your first two weeks if you're going cold turkey.
To ease your frustration and cravings, you can look into using nicotine replacement therapy (NRT), which involves products designed to aid smokers who are challenged and overwhelmed by withdrawals and cravings.
Chat to an Aussie GP today
Bulk-billed phone consultations
TGA-authorised Aussie doctors
Nicotine vaping scripts available
NRT has played a key role in helping many smokers finally quit the habit. According to a study published in the International Journal of Health Sciences, NRT products have helped smokers increase their chances of quitting by 50-70%.
In this article, we will learn about how NRT works, how to use NRT for smoking cessation, the types of NRT available, and some of their potential side effects.
How Does Nicotine Replacement Therapy Work?
NRT products release a small dose of nicotine into your body to lessen the withdrawal symptoms you feel, such as strong cravings, irritability, and restlessness.
Nicotine is the addictive chemical in cigarettes that your body absorbs after you smoke a cigarette. Because your body has been so used to consuming it regularly, its abrupt absence from your body can cause extreme levels of withdrawals – similar to what you might feel when your favourite TV series gets cancelled before the last season airs.
When you follow the dosing schedule in a timely manner, you can get through the worst of your cravings and withdrawals. With these products also helping wean you off nicotine, you also have a greater chance of successfully kicking the habit for good.
How to Use Nicotine Replacement Therapy for Smoking Cessation
Almost all NRT products are available over the counter from most supermarkets and pharmacies without a prescription.
But, we highly recommend going through a quit programme – only a medical counsellor can set the dosage suitable for your specific cravings and withdrawal symptoms.
NRT treatment is only highly effective with the help of a GP. Using NRT products without professional oversight is like going on a first-time hike without a guide. You might get lost on your way without one.
To begin your quit journey, consult a GP, such as the bulk-billing experts available here at Smokefree Clinic. You'll be working together to create a personalised smoking cessation programme where NRT products can aid you towards success.
Your GP will recommend your NRT dosage based on a number of personal factors, such as the average number of cigarettes you consume daily, then recommend a dosing schedule that you should follow to the dot.
NRT products only have a low nicotine dosage and must be taken on time and at the GP's prescribed level. Not doing so might lessen their effectiveness in curbing your cravings and alleviating withdrawal symptoms.
Types of NRT Products
There are five types of NRT options typically sold around the country. Most of them don't require prescriptions.
But, as mentioned, we do highly recommend working with your GP on a counselling programme to get the most out of your NRT, and being successful in your journey away from smoking.
Below, we'll describe how each product works and how to use them properly.
Nicotine Gum/Lozenge
Nicotine gums and lozenges are available over the counter without a prescription. These chiclet-like products contain a small nicotine dose to cushion the impact of withdrawals.
How often you should use these for the greatest chance of success will depend on your smoking cessation programme, so we recommend consulting a GP first before buying from a pharmacy or supermarket.
Take note that drinks can have an effect on the level of relief you get from nicotine gums and lozenges. So if you just drank coffee, tea, soft drinks, and orange juice or other acidic drinks, you'll need to wait a while before using them.
Nicotine Inhaler
Nicotine inhalers are 'puffable' devices, like cigarettes, and deliver nicotine through replaceable cartridges. But, unlike a cigarette, these inhalers contain no dangerous substances and only deliver a small dose of nicotine.
Aside from helping relieve nicotine cravings, inhalers can also satisfy the physical urge to puff a cigarette. The way nicotine inhalers are used imitates the hand-to-mouth movement of smoking.
However, using inhalers can cause minor discomfort. The contents stay in the back of the throat, rather than into the lungs, and this could cause irritation and coughing after use. These symptoms should disappear within a few days to a week.
To make it more effective, you can use inhalers alongside a slower-acting NRT such as nicotine patches. This is known as combination therapy, but we highly recommend seeing your GP first before doing this to get the dosages right.
Nicotine Nasal Spray
Some ex-smokers might prefer reducing their withdrawal symptoms by spraying it through their nasal cavities.
Typically, nasal sprays are applied in each nostril. We recommend going through the product's instructions to use them properly because it takes some practice to do it correctly.
Within 5-10 minutes of spraying the right dosage, you may start to feel relaxed as your withdrawal symptoms and cravings gradually dissipate.
As it is sprayed in your nose, you might feel some irritation around your throat, nose, and eyes. This can disappear within a week after you start using them. If it doesn't, discontinue using the product and consult your GP for alternatives.
Nicotine Patch
These patches contain a small dose of nicotine that is absorbed by your body through the skin, which can help to reduce your urge to smoke.
After you put them on a hairless spot on your body, you can forget about them until you have to replace them again after 24 hours.
Because these patches are available in varying dosages, a GP can help you find the most suitable product.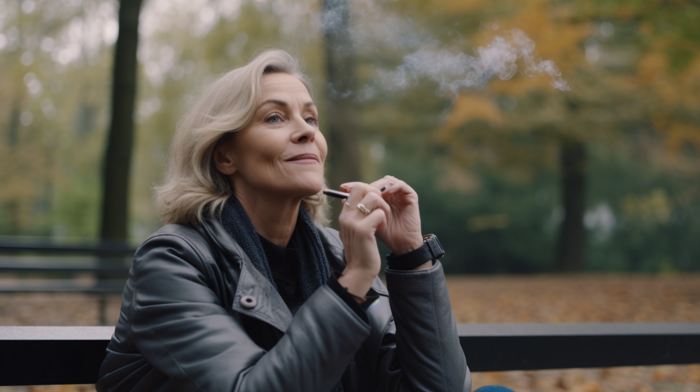 Nicotine Vaping Products (NVPs)
You've likely heard of nicotine vaping products, also known as 'NVPs'. Unfortunately, you've most likely seen them in illegal online advertisements, being sold illegally in a shop, or have possibly noticed a large cloud emanating from a passerby.
It's important to note that there are responsible, high quality and discreet medical NVPs available in your local pharmacy, and these should not be confused with the thousands of illegal and unsafe imports currently being used widely across the country.
In Australia, legal NVPs are only available through pharmacies under a GP's prescription. Keep in mind that any NVP sold outside pharmacies is illicit and may contain dangerous chemicals and harmful levels of nicotine.
According to a review in Cochrane, strong evidence suggests smokers are more likely to stop smoking after six months by using NVPs over NRTs. The review also mentions that only NVPs with carefully measured nicotine levels had decreased the likelihood of patients going back to smoking.
NVPs are second-line products designed to aid you if NRT products have proven unsuccessful in helping you quit.
Even if it is not a front-line quit smoking aid, there is now high-certainty evidence that NVPs are more effective than NRT in helping people quit smoking.
Side Effects of Nicotine Replacement Products
NRT products feel like a cure-all, right? They can give a massive relief from strong withdrawals, but be prepared for some potential discomfort when you first start using them.
Some patients have reported experiencing headaches and nausea after going through NRT. Some have also reported issues with digestion and sleep disruptions.
Don't be alarmed. In most cases, NRT product side effects disappear after a few days to a week.
But in case you still feel discomfort after a few days have passed, you can consult with your GP to get an alternative more suited to your needs.
Summary
Now that you know what NRT products are and how to use them, you have the best chance to stop smoking. NVPs are currently only available from local pharmacies, while gum, lozenges, patches, nasal sprays and inhalers are also available in most supermarkets.
Sometimes, your preferred NRT option doesn't work how you want it to. You might experience an irritation that doesn't go away. When this happens, feel free to ask your GP for alternatives.
If NRT also doesn't help you stop smoking, consult with a GP to see if NVPs available from pharmacies may be something you can consider.
You're probably here because you want to learn more about how NRTs can help you weaken your smoking urges. This is the best place to learn more about it and to get reliable information on quitting.
Smokefree Clinic gives you access to many medically reviewed and trustworthy resources that can inform and aid you in your path to wellness, so have a look around!
If you're ready to get started, Smokefree can connect you to bulk-billing Australian healthcare professionals who excel in helping patients quit smoking for good, including using responsible vaping products where appropriate.
Click here to book your bulk-billed telehealth consultation with an Australian healthcare professional and quit smoking today.'