Struggling to quit smoking while pregnant?
Over 50% of women who smoked before pregnancy decide to quit before their first antenatal visit. Giving up cigarettes is extremely difficult, but we want you to know that it's also very possible.
With the correct tools, techniques, and guidance, you can achieve total cessation that could even result in a permanent solution.
The Royal Australian College of GPs (RACGP) advises that quitting before conception is best thing to do. If that is not possible, then quitting as soon as possible during the pregnancy is recommended.
Chat to an Aussie GP today
Bulk-billed phone consultations
TGA-authorised Aussie doctors
Nicotine vaping scripts available
Smokers who quit during early pregnancy (e.g. within the first trimester) have similar pregnancy outcomes to non-smokers. These health benefits are not realised if quitting occurs later in pregnancy, so the sooner you can quit, the better – for the mother and the baby.
Struggling to quit while pregnant or in the lead-up to pregnancy?
Let's break down the effects of smoking while pregnant, the misconceptions around the justification of the action, and most importantly, how to quit smoking when pregnant. Of course, the ideal scenario is always to quit smoking before becoming pregnant.
How Smoking Affects Pregnancy
There are many risks to smoking, and these risks are transferred to the baby if the habit persists.
Smoking affects pregnancy in the following ways;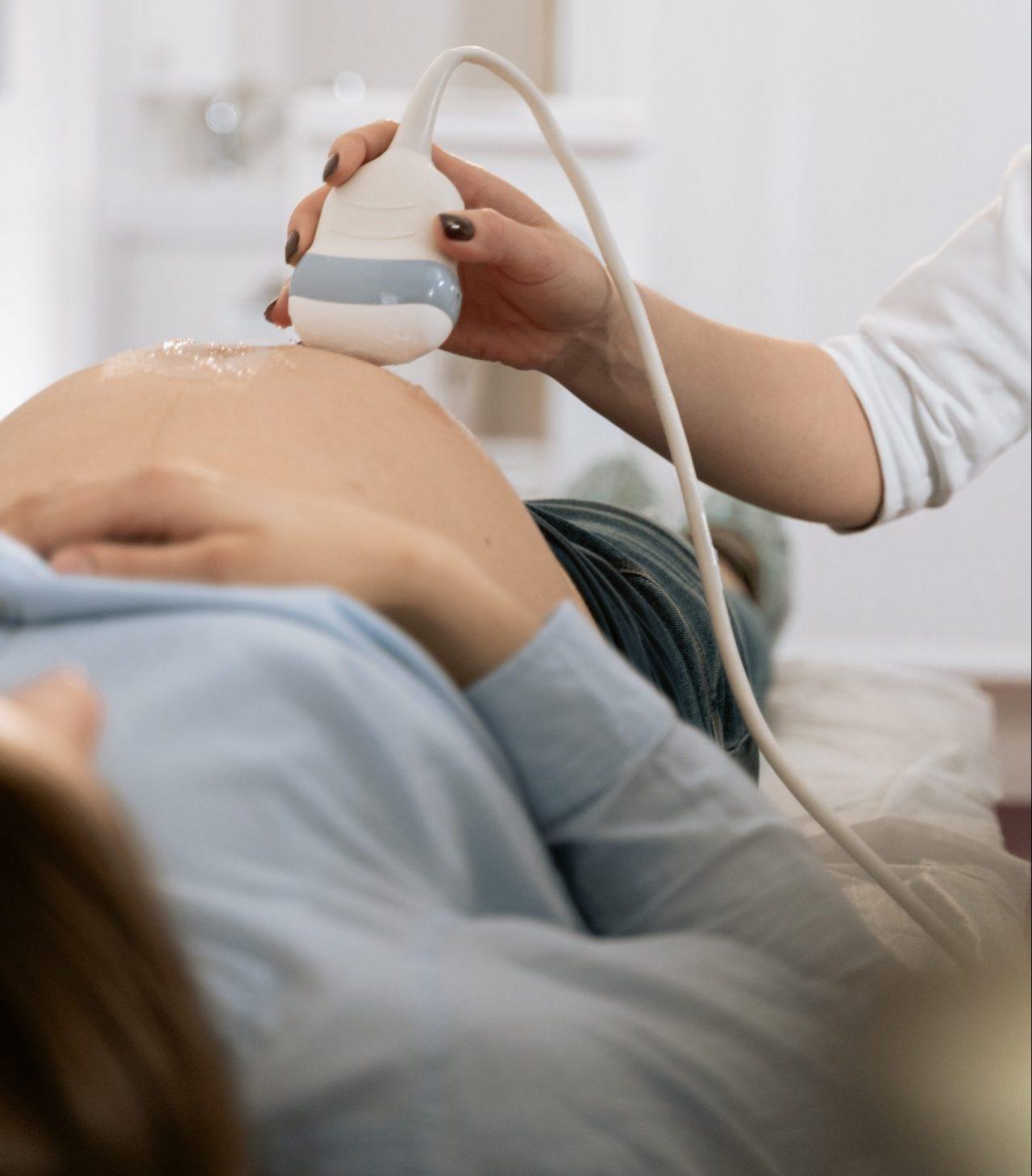 Increased risk of abnormal bleeding during labour
Placental Abruption: When the placenta prematurely detaches from the uterus either partly or entirely. This can limit oxygen supply to the child and increase the chances of severe bleeding during pregnancy. If Placental Abruption is untreated, critical circumstances can lead to fatality for either the child or both the mother and child.
Placenta Previa: When the placenta attaches itself to the cervix, which can cause critical bleeding during labour.
Placenta Accreta: When the placenta (or a portion of it) becomes embedded in and joined to the uterine wall, it is known as placenta accreta. Placenta accreta can lead to excessive blood loss during delivery and third-trimester bleeding.
Increased risk of Sudden Unexpected Death in Infancy (SUDI)
SUDI is the sudden and unexplained death of an infant under one year old. While guidance from the Department of Health states that instances of SUDI are rare and the risk of a baby dying from it is very low, they also note that, if a mother smokes during pregnancy, the baby is much more likely to die from SUDI than if you don't.
The result of a baby not reaching full term (39-40 weeks). Babies born before 34 weeks can experience challenges and, in some cases, death due to undeveloped bodily functions.
Whether the baby reaches full term or not, smoking during pregnancy can result in a low birth weight which can have serious health issues.
Congenital disorders such as cleft lip and cleft pallet
During the 4th to the 9th week of pregnancy, the lip and pallet start to form. A cleft lip and pallet occurs when the tissue has not fully connected, leaving a gap. These congenital disorders can be corrected, but the baby may struggle to feed and could experience feeding difficulties if left unresolved.
Damaged lungs and stunted brain activity
Smoking while pregnant stunts a baby's growth, including the development of the lungs and brain; this could have lasting repercussions that continue throughout the child's lifetime.
Misconceptions Around Smoking While Pregnant
No. 1 – 'Quitting smoking during pregnancy will cause even more stress for the baby'.
The damages of smoking far outweigh the repercussions of stress. The highest state of stress is in between cigarettes when cravings are at their highest. It's important to remember that these cravings dissipate, and the stress starts to decrease the longer you stick with quitting.
No. 2 – 'The baby is protected in your belly, and it's not breathing air anyway'.
Mother and child share the same bloodstream. A baby takes on around 4 thousand chemicals every time a mother has a cigarette while pregnant. It is the equivalent of a child trapped in a room full of second-hand smoke for 15 minutes.
No. 3 – ' Smoking makes for a smaller baby, and smaller babies are easier to birth'.
While this statement may make some intuitive sense, the size of the baby isn't the only factor that determines the ease (or difficulty) of the birth. A number of complications may coincide with a smaller baby, such as development issues, heart and lung conditions, and higher vulnerability to infection. These effects may just outweigh the potential benefits of birthing a smaller baby.
No. 4 – 'Quitting smoking will make me gain weight'
This may be true as seeking comfort from food can be an instinctive response to managing nicotine cravings. But the truth is, there are many ways to control weight or keep weight gain at a minimum, and almost all methods are healthier than smoking. Light exercise and adopting a healthy diet not only help control weight but are beneficial for the unborn baby.
No.5 – 'My mother smoked as a child and turned out alright'.
The effects of maternal smoking may impact the child in many different ways, and it's true that some children show no physical or mental symptoms. But leaving a child's life to the luck of circumstance may not work in everyone's favour. According to the National Library of Medicine, a study conducted in 1997 clearly outlined that the rate of infant mortality was 40 % higher in women that smoked during pregnancy.
No. 6 – 'I've been smoking for half of my pregnancy what's the point of giving up now?'
It's never too late to give up smoking. Even if you're in your third trimester or just days out from your proposed due date, every second counts.
No. 7 – 'I'll just cut down instead of giving up.'
While cutting back will decrease the exposure to your baby and is a good first step if you're struggling to quit completely, as mentioned above, just one cigarette is exposing your baby to around 4 thousand chemicals via the bloodstream. And to give your little one the best chance, quitting altogether is the best option.
If one of the scenarios above is similar to your current situation, read further to find out how you can quit smoking when pregnant.
How to Quit Smoking When Pregnant
Nicotine is one of the most addictive drugs and the most used second to caffeine. It's understandable that you may be struggling, but there are ways to make things easier. You may have already tried going cold turkey, but the fact is that only 3 to 5 % of people successfully utilise this method.
Here are a few things you can try that will help you completely quit smoking.
Alternatives to Cigarettes
The Royal Australian College of GPs strongly recommends quitting smoking, ideally before conception. Alternative methods such as vaping, nicotine patches, and nicotine gum can provide a softer transition to quitting completely. If you are a smoker and are planning to have children it is important to plan ahead and get the right support to help you quit smoking before pregnancy.
Remove All Influences
Removing influences and contact with second-hand smoke will reduce cravings whilst eliminating the effects of passive smoking. Even the smell alone can be enough to trigger cravings that could harm your progress. If your partner smokes, consider asking them to jump on a quit plan with you. If some of your friends smoke too, chat with them and see if they can avoid it while you are hanging out. If you have a stash of cigarettes or tobacco somewhere in the house, it's best to remove the temptation and chuck them out.
Exercise Stimulates Progress
Get a training regime together. Exercise can stimulate progress. The feeling of self-accomplishment can be the very thing that you need to push forward and maintain your quitting efforts.
Substitution
Substitution is something that the mind adopts naturally. But if you can control what you are substituting for cigarettes, you can avoid swapping your cravings with unhealthy alternatives such as excessive junk food.
Struggling to Quit Smoking While Pregnant?
When your cravings are at their peak, try and take 5 minutes to yourself, stop and have a breather. Often people are drawn to the meditative nature of smoking, and taking that step away from a stressful situation will help ground you. Have a glass of water or even a lollipop; these alternatives can satisfy the habitual nature of the hand to mouth contact.
If you are planning to start a family or you're struggling to quit smoking in the lead up to or during your pregnancy, please get in touch with the team at Smokefree Clinic; our doctors are smoking cessation specialists and will help you plan the best path forward.